Godden does not record this weaver
Signed on top turnover:-
"S. G. POOLE. DESGR. MANFR - COVENTRY."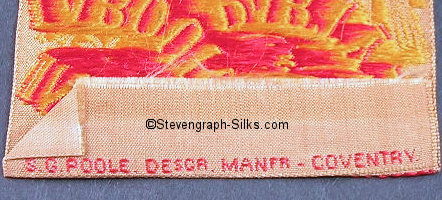 Extract from : en.wikipedia.org/wiki/Independent_Labour_Party:-
At a TUC meeting in September 1892 a call was issued for a meeting of advocates of independent labour organisation. An arrangements committee was established and a conference called for the following January. This conference was chaired by William Henry Drew and was held in Bradford, on 14–16 January 1893. It proved to be the foundation conference of the Independent Labour Party (ILP) and MP Keir Hardie was elected its first chairman.
On 11 April 1914 the party celebrated its 21st anniversary with a congress in Bradford [to which the bookmark above relates]. The party had grown well in the previous decades, standing with a membership of approximately 30,000.
On 25 August 1888, the Scottish Labour Party (SLP) was formed, and this remained until 1895 when it dissolved itself into the ILP. This followed with Hardie becoming President of the ILP in 1894 and the vast majority of Scottish Labour Party members supported him.
[I do not know, but it seems to me that as the logo of the Independent Labour Party is " ISLP " - perhaps the SLP part reflected the Scottish connections]