It is not known how this bookmark is signed on the back, if at all, although as can be seen, it is still attached to the stiff backing paper used to support it in the post, and that has the printed:
" EMMANUEL SERIES "

at the top, and at the bottom:
" G. J. C. (LDN) Ltd BRITISH MANUFACTURE"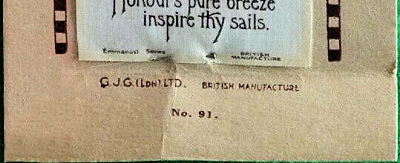 close up of printed at bottom of stiff paper
Note: It has to be admitted that this printing does look a lot like " G.J.G. ", although as they are so far not recorded with any of the " EMMANUEL SERIES " of cards, the bookmark is recorded as " G.J.C. ".