This ribbon is believed to be a pair with
cash-other0014 - Crimean War - Returning
. It is worth noting however that the respective French and British soldiers are different. In particular, in the ribbon above, the British soldier is from a Scottish regiment, whilst in the " Returning " ribbon he is from an English regiment. Similalry, the French soldier is dressed differently.
The Bookmark Society record this ribbon as being a bookmark (reference number 513), thereby attributing it to J & J CASH'S manufacture. The design though is a continuously repeated pattern, of which the image above is of one cycle. There is no break in the design to allow a bookmark to be formed with upper or lower fold-overs. As such, there is also no weavers name anywhere on the actual ribbon.
A recent on-line auction though has raised doubts as to whether this ribbon was actually made by CASH'S. There are two images below. One is of the whole ribbon being sold (with the sellers eBay user name), and the other is a close up of the weaver's and designer's names woven on the silk.
The woven French weavers name appears to be " GRANGIER ", whilst the designs name appears to be " OGIER ", again being French.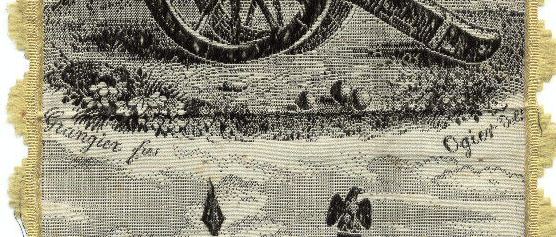 close up of weaver's and designer's woven names.

The ribbon recently sold shows the names of countries involved, a field gun and a French and Scottish soldier. Of importance is the two soldiers, as they are the mirror images of the two shown in the ribbon above.


ribbon recently sold in an on-line auction (with eBay sellers user name).


Repeat of the ribbon above:

As can be seen, the images

of the soldiers are identical

For a close comparison, a mirror image of the

two soldiers in the recent auction ribbon

has been repeated: