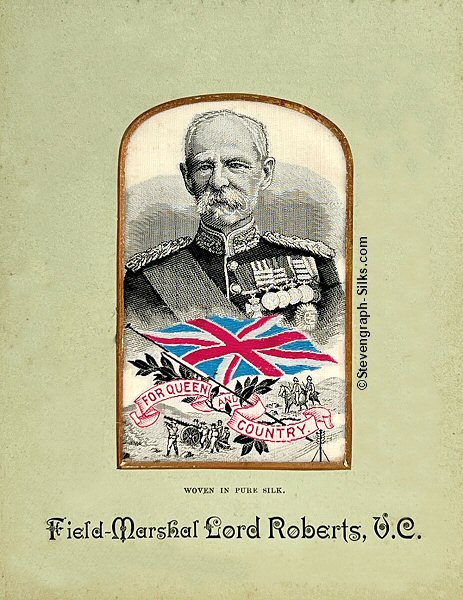 ---
Field Marshal LORD ROBERTS, V.C.
---
Reference Number:-
Godden Number:-
Sprake Number:-
go 267
not recorded
Sprake did not record any Grants
Words:

Woven on Silk:-


ribbon with words:-
FOR QUEEN AND COUNTRY

Printed at bottom of card:-

WOVEN IN PURE SILK

Field-Marshal Lord Roberts, V.C.

Size:

Card-mount:

cm deep by cm wide

silk:
cm high by cm wide

Comments:

by Geoffrey Godden:

Godden does not record this version with fancy type face.

Other comments:
The actual silk is the same as the Grant woven Empire Makers portrait of Roberts, although this particular silk does not have any printing above the portrait, and the printed title of Robers is of a fancy type face.

---
---