May The / BESTOWER / of all / BLISS
WITH LOVING BIRTHDAY GREETINGS
Reference Number:-
Godden Number:-
Sprake Number:-
sa 356
No Alpha Cards listed
by Godden
No Alpha Cards listed
by Sprake
---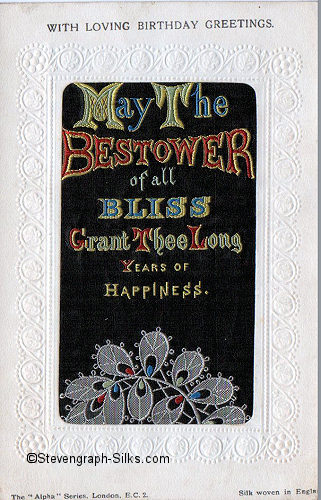 Not recorded by John High in his unpublished list
Words:

Woven on silk:-

May The

BESTOWER

of all

BLISS

Grant Thee Long

YEARS OF

HAPPINESS

Printed at top of card:-
WITH LOVING BIRTHDAY GREETINGS.

Printed at bottom of card:-


| | | | | |
| --- | --- | --- | --- | --- |
| | The "Alpha" Series, London, E.C. 2. | | Silk woven in England | |

Size:

card:

cm long by cm deep

silk:
cm long by cm deep

Comments:

The silk of this alpha postcard is actually the top part of Stevens bookmark

sb 1364 - May the bestower of all bliss

.

As the silk is of Stevens origin, it will be noted that the embossed border around the silk is also that of Stevens, rather than the usual Alpha Series border.
---
---