no words on silk
- Flags - French & USA
Hands Across the Sea
Reference Number:-
Godden Number:-
Sprake Number:-
sa 1100
No Alpha Cards listed
by Godden
No Alpha Cards listed
by Sprake
---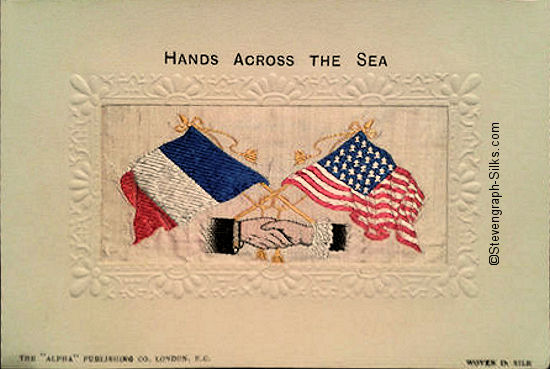 Not recorded by John High in his unpublished list
Words:

Woven on silk:-

(there are no words woven on the silk)

Printed at top of card:-
HANDS ACROSS THE SEA

Printed at bottom of card:-


| | | | |
| --- | --- | --- | --- |
| THE "ALPHA" PUBLISHING CO. LONDON, E.C. | | WOVEN IN SILK | |

Size:

card:

cm long by cm deep

silk:
cm long by cm deep

Comments:

Apart from the absence of the name of a ship, and the alternative publishers name, the card above is identical, including the embossing, to those

Hands Across the Sea postcards produced by Thomas Stevens

.

The identical nature of the card reinforces the opinion that Stevens sold complete cards to Alpha, and not just the silk panels.
---
---