Signed: " T.STEVENS MANF=R COVENTRY "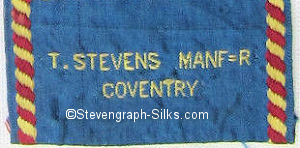 Stevens logo on the reverse top turn-over of this bookmark
Note: " SHS " stands for SACRED HARMONIC SOCIETY
From research conducted by a member of the Stevengraph Collectors Association it is known that the organisers of the Festival contracted Stevens to produce five different coloured "Badges" to be worn by the singers. The individual colours denoted the different singers, i.e. one for the Bass, one for the Tenors etc., and these are recorded as sb868 on this site.
As well as individual badges for each singer, the stewards also had a badge, with slightly different design, and this is the one recorded above.