The bookmark to the left has the J. J. Mannion weavers name woven on the top turn-over.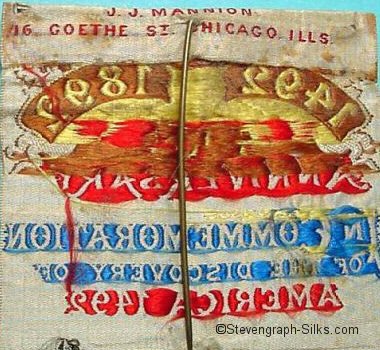 J. J. Mannion was believed to be Stevens' agent in the USA, and as a consequence, all Mannion Columbus bookmarks are attributed to Stevens.
Whilst Mannion might have been an agent of Stevens, it is possible they were agents too for other weavers. It is also quite possible Mannion was a weavers in his own right, or even had others weave on his behalf. There is unfortunately no evidence to direct any of these possibilities.
Only some of these Columbus silk bookmarks are included in the Stevens' Family Album preserved at the Herbert Art Gallery and Museum, Coventry, and although this particular design is not included, nevertheless, all such designs have been attributed to Stevens.
I have concerns as to such generalisations, and until such time as this particular design is positively identified to Stevens, it is recorded here as if it were of his manufacture.
This bookmark does not have a weavers name.

As can be seen from the scanned imaged (above right), this bookmark is still attached to the original backing paper.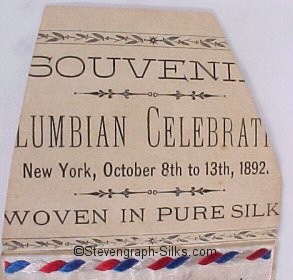 This original backing paper reads "Souvenir / Columbian Celebration / New York October 8th to 13th, 1892 / Woven in Pure Silk.
These Columbus bookmarks are normally attributed to Stevens as they were assumed to have been produced at the Columbian Exposition, which opened on 1 May 1893, and at which Stevens is thought to have had a loom operational.
This silk though was made in the October of the previous year - some 6 months earlier - and there is no evidence that Stevens attended that Columbian Celebration.
There are a number of silk pictures and portrait recorded on this site which are definitely Stevens designs, but with Mannion's name printed on the card matt, and evidence would suggest these were made before 1892.
It is possible that Mannion imported these silks, and this bookmark too which he attached to the Columbian Celebration backing paper. It is also possible that Stevens bought over his loom to the USA at an earlier date, and all these silks and bookmarks were woven in the States.