by Godden:
Godden does not includes this silk.
Other comments:
An unusal use of silk pictures, and wonderful that it has survived in good condition since 1935.
These two silks have been incorporated into a leatherette stationary wallet.
The first silk, on the front of the wallet, has a woven date of 1915, and depicts a scene from the Battle of Waterloo.
The second silk, dated 1935, is on the inside of the wallet, and depicts the scene of a Household Cavalry procession through the busy street of a town.
The rest of the wallet has a space for paper and a pen holder.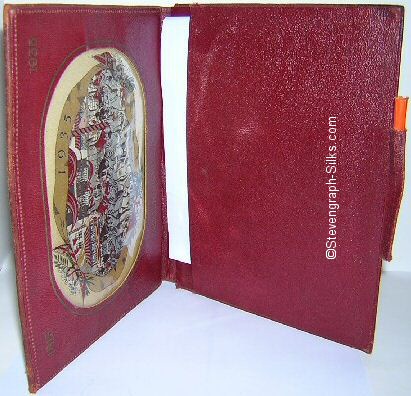 [view of writing case, showing 1935 silk on the inside of the case, and space for writing paper and pen holder]
What the procession celebrates is now not know, although as King George V became King of England in 1910, 1935 would be his Silver Jubilee year. Celebrations of this scale would probably have occurred.
We assume the town through which the procession took place was Leek (the home town of Brough, Nicholson & Hall), Staffordshire, although, again we do not know.
There is no direct link that I know of between the celebrations, and the Battle of Waterloo, some 120 years earlier.