Moon Landing (1969)
Woven by Brough, Nicholson & Hall Ltd.
| | |
| --- | --- |
| Reference Number:- | |
| obn 438 | |
---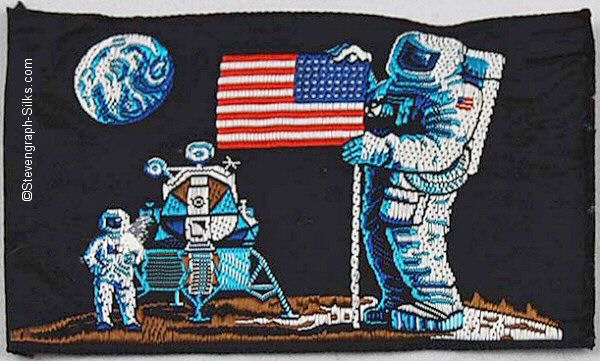 the image of this silk was kindly donated by
Gillian Cooper, Great Britain
Words:

Printed at bottom of card:-

Size:

card:

cm long by cm deep

silk:
cm long by cm deep

Comments:

There is no woven credit on this silk, and it was probably intended to be mounted either as a picture or as a card.
However, Gillian has been able to authenticate this silk as being a Brough Nicholson & Hall manufacture, from ex-employees, in particular from a former weaver there, whose niece was her next-door-neighbour. In particular, he verified items that were un-named.
---
---