Liverpool RC Cathedral
Woven by Brough, Nicholson & Hall Ltd.
| | |
| --- | --- |
| Reference Number:- | |
| obn 306 | |
---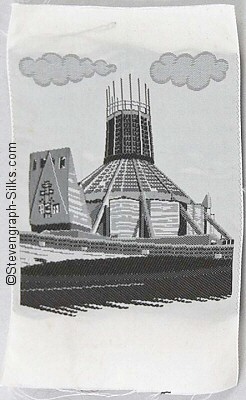 the image of this silk was kindly donated by
Gillian Cooper, Great Britain
Words:

Printed at bottom of card:-

Size:

card:

cm long by cm deep

silk:
cm long by cm deep

Comments:

There is no woven credit on this silk.
However, Gillian has been able to authenticate this silk as being a Brough Nicholson & Hall manufacture, from ex-employees, in particular from a former weaver there, whose niece was her next-door-neighbour. In particular, he verified items that were un-named.

The image of the silk is of the Liverpool Roman Catholic Cathedral, and was probably to have been included with the other Cathedral Christmas cards.
It has however never been seen mounted, and as such, this silk might have been produced for approval, but was never made available as a finish article.
---
---