Hurdsfield House, 1890
(red dress)
1950
Reference Number:-
Sprake Number:-
Godden Number:-
obk 22
not listed
recorded without number
---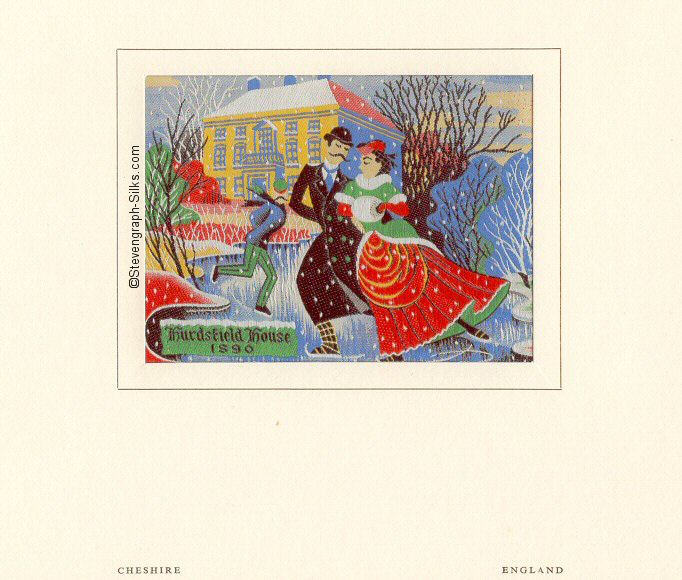 Words:

Woven on silk:-



Hurdsfield House
1890

Printed at bottom of card mount:-

CHESHIRE

ENGLAND

Size:

Card mount:

19.3 cm deep by 24.4 cm wide

silk:
7.6 cm high by 10.3 cm wide

Technical Details supplied by Lewis Cowen:

| | |
| --- | --- |
| First Sketch: | Mr Sidney Barlow |
| Design Draft: | Mr James Norris |
| Card Cutter: | Mr William Stubbs |
| Weaver: | Mrs Ruth Collier |
| Design No: | Y.1017 |

Comments:

by Lewis Cowen:
HURDSFIELD HOUSE was the last issue to appear without a legand. From 1951 all woven silk pictures had one, giving some background information, but research indicates that this building was purchased in 1729 by William Brocklehurst, for the sum of £660. At that time it was known as Lower House, Hurdsfield, and was to become the home of John Brocklehurst (William's son) at about the time he joined the button firm of Acton & Street in 1745, remaining in the family for some generations.
---
---