printing on inside front fold-over cover: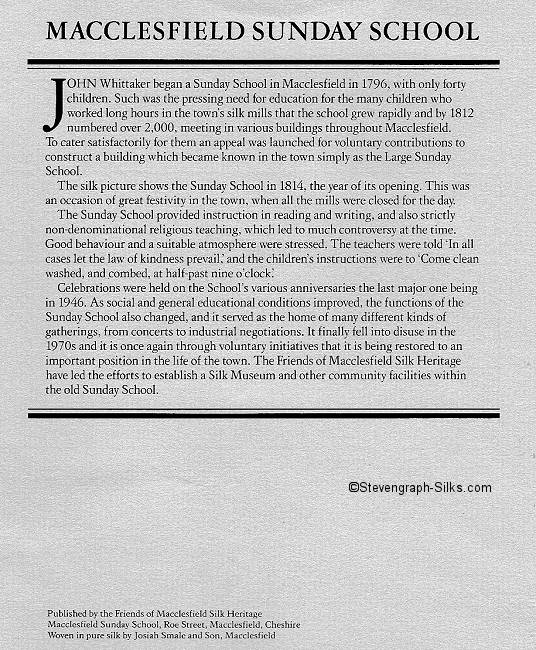 MACCLESFIELD SUNDAY SCHOOL

---
JOHN Whittaker began a Sunday School in Macclesfield in 1796, with only forty
children. Such was the pressing need for education for the many children who
worked long hours in the town's silk mills that the school grew rapidly and by 1812
numbered over 2,000, meeting in various buildings throughout Macclesfield.
To cater satisfactorily for them an appeal was launched for voluntary contributions to
construct a building which became known in the town simply as the Large Sunday
School.

The silk picture shows the Sunday School in 1814, the year of its opening. This was
an occasion of great festivity in the town, when all the mills were closed for the day.

The Sunday School provided instruction in reading and writing, and also strictly
non-denominational religious teaching, which led to much controversy at the time.
Good behaviour and a suitable atmosphere were stressed. The teachers were told 'In all
cases let the law of kindness prevail', and the children's instructions were to 'Come clean
washed, and combed, at half-past nine o'clock'.

Celebration were held on the School's various anniversaries the last major one being
in 1946. As social and general educational conditions improved, the functions of the
Sunday School also changed, and it served as the home of many different kinds of
gatherings, from concerts to industrial negotiations. It finally fell into disuse in the
1970s and it is once again through voluntary initiatives that it is being restored to an
important position in the life of the town. The Friends of Macclesfield Silk Heritage
have led the efforts to establish a Silk Museum and other community facilities within
the old Sunday School.


---












Published by the Friends of Macclesfield Silk Heritage
Macclesfield Sunday School, Roe Street, Macclesfield, Cheshire
Woven in pure silk by Josiah Smale and Son, Macclesfield