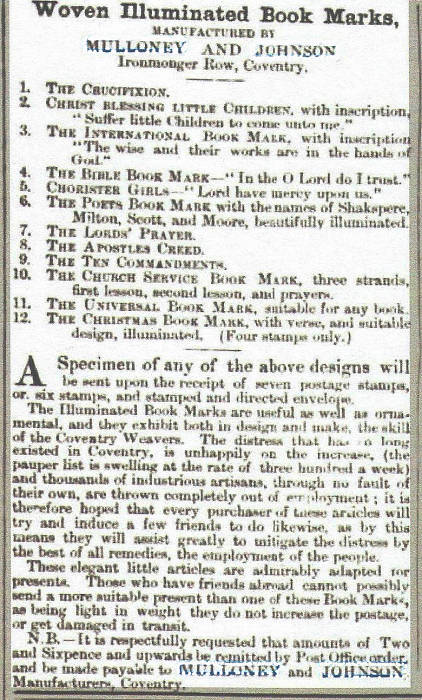 this advert was sourced by Jenni Redman
Woven Illuminated Book Marks,
MANUFACTURED BY
MULLONEY AND JOHNSON
Ironmonger Row, Coventry.



1.


THE CRUCIFIXION.





2.


CHRIST BLESSING LITTLE CHILDREN, with inscription,
"Suffer little Children to come unto me."





3.


THE INTERNATIONAL BOOK MARK, with inscription,
"The wise and their works are in the hands of
God."





4.


THE BIBLE BOOK MARK --- "In the O Lord do I trust."





5.


CHORISTER GIRLS --- "Lord have mercy upon us."





6.


THE POETS BOOK MARK with the names of Shakspere,
Milton, Scott, and Moore, beautifully illuminated





7.


THE LORDS' PRAYER.





8.


THE APOSTLES CREED.





9.


THE TEN COMMANDMENTS.





10.


THE CHURCH SERVICE BOOK MARK, three strands,
first lesson, second lesson, and prayers.





11.


THE UNIVERSAL BOOK MARK, suitable for any book.





12.


THE CHRISTMAS BOOK MARK, with verse, and suitable
design, illuminated (Four stamps only.)






A

Specimen of any of the above designs will


be sent upon the receipt of seven postage stamps,





or, six stamps, and stamped and directed envelope.
The Illuminated Book Marks are useful as well as orna -
mental, and they exhibit both in design and make, the skill
of the Coventry Weavers. The distress that has so long
existed in Coventry, is unhappily on the increase, (the
pauper list is swelling at the rate of three hundred a week)
and thousands of industrious artisans, through no fault of
their own, are thrown completely out of employment; it is
therefore hoped that every purchaser of these articles will
try and induce a few friends to do likewise, as by this
means they will assist greatly to mitigate the distress by
the best of all remedies, the employment of the people.
These elegant little articles are admirably adapted for
presents. Those who have friends abroad cannot possibly
send a more suitable present than one of these Book Marks,
as being light in weight they do not increase the postage,
or get damaged in transit.
N.B. --- It is respectfully requested that amounts of Two
and Sixpence and upwards be remitted by Post Office order,
and be made payable to MULLONEY and JOHNSON,
Manufacturers, Coventry.