There is no indication as to who wove this silk picture. The signature on the silk though, of S. A. HORSLEY, and date 1973, defines it as being by CARTWRIGHT & SHELDON. Below is a close up of the woven signature: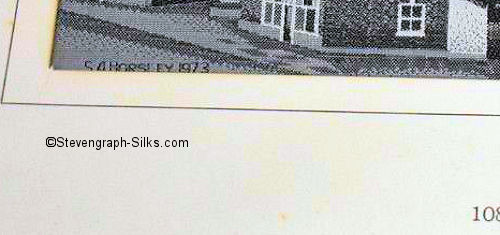 Lewis Cowen, in his book Macclesfield Woven Silk Pictures comments that this picture was commissioned in 1973 by a local company, " Tie Specialists ". It was designed by Sidney Horsley, and unusually, worked in black and white silk.
Care though should be taken with this picture. The original CARTWRIGHT & SHELDON versions are mounted in a stiff card mount. The company of SPURCROFT re-woven this picture, including the Horsley signature and date, and there is no discernible difference. The Spurcroft version though is mounted in a heavy grade card mount (being 3mm thick!), measuring 33.1mm wide by 26.6mm deep.
It would seem that this picture was originally mounted in a fold over cover, the inside of which had a printed legend describing the scene:
" The 108 Steps are probably one of the earliest pathways
in the town of Macclesfield. They rise steeply from the
low-lying Waters Green to the ancient Parish Church
and Market Place. "