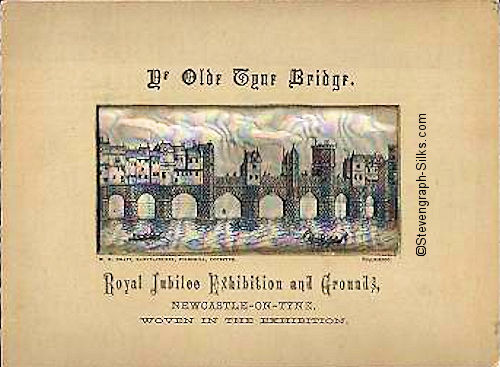 ---
Ye Olde Tyne Bridge
Royal Jubilee Exhibition and Grounds, Newcastle-on-Tyne
---
Reference Number:-
Godden Number:-
Grant Catalogue Number:-
gt 822
not recorded
unknown
Words:

Printed at top of card:-
Ye Olde Tyne Bridge.


Printed at bottom of card:-
W.H. GRANT, MANUFACTURER, FOLESHILL, COVENTRY REGISTERED

Royal Jubilee Exhibition and Grounds,
NEWCASTLE-ON-TYNE,
WOVEN IN THE EXHIBITION.

Size:

Card-mount:

cm deep by cm wide

silk:
cm high by cm wide

Comments:

by Geoffrey Godden:
Godden does not record this title.

Other comments:
The reverse of this picture has an advertising label with 7 Highest Awards, and is overprinted in large red letters, " SEE SHOP 22, OLD TYNE BRIDGE ", implying that Grant had a shop actually on the bridge.
---
---