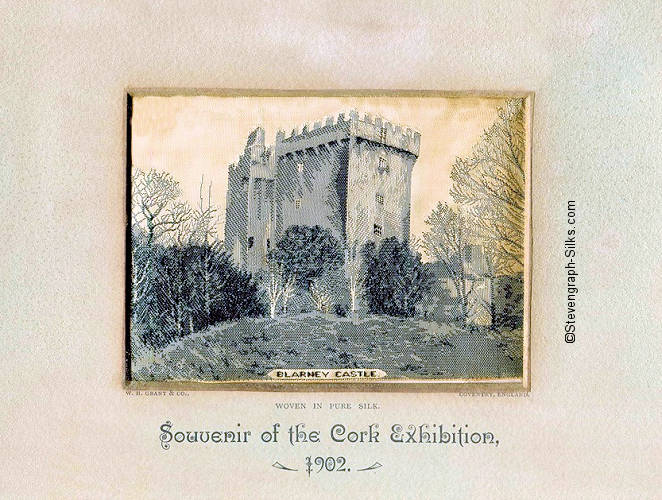 ---
Souvenir of the Cork Exhibition, 1902
(Blarney Castle)
---
Reference Number:-
Godden Number:-
Grant Catalogue Number:-
gt 592
not recorded
unknown
Words:

Woven on Silk:-
BLARNEY CASTLE

Printed at bottom of card:-
W.H GRANT & Co., COVENTRY, ENGLAND.

WOVEN IN PURE SILK.

Souvenir of the Cork Exhibition,
1902.

Size:

Card-mount:

cm deep by cm wide

silk:
cm high by cm wide

Comments:

by Geoffrey Godden:
Godden does not record this title.

Other comments:
These SOUVENIR pictures were produced at the 1902 Exhibition.
It is perhaps interesting to note that the following year, at the same exhibition site, Grant seemed to have only produced postcards of the same views, and no pictures at all.
The corresponding 1903 postcard to this 1902 picture is recorded on this site as gc267 with the title: " Souvenir of the Greater Cork Exhibition, 1903 (Blarney Castle) ".
---
---