by Geoffrey Godden:
LADY GODIVA STATUE
A most imposing silk produced both before and after the Second World War. This was the first silk picture to be designed by T. D. Howes. The post-war version, adopted from the only draft to survive the bombing, differs slightly from the pre-war design.
Other comments:
This design was originally produced in about 1933 by Mr Thomas Donald Howes, but in a slightly smaller size. The design shows the statue of Lady Godiva, then located in St. Mary's Hall, Coventry, with a stained glass window behind the statue.
The 1933 design was issued as a calendar for that year (recorded as gt233), and reissued as a 1958 calendar (recorded as gt258), in this slightly larger size.
The picture above was issued as a silk and card with a ribbon so it could be hung on the wall. With the exception of the actual printed calendar being omitted, it is identical to the 1958 calendar version.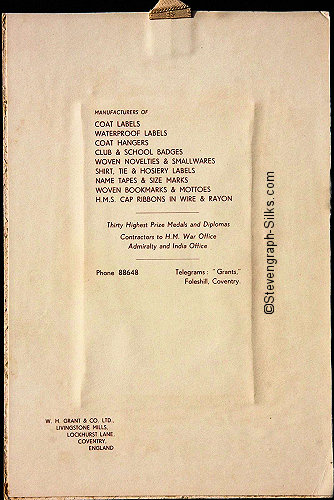 reverse of this picture, showing details of Grants products, but no 1958 calendar