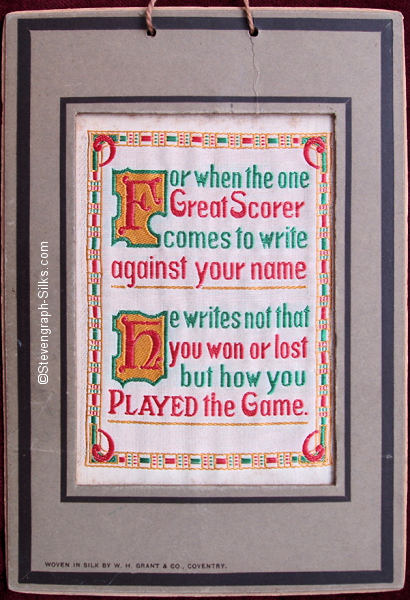 ---
For When the One Great Scorer
(verse mounted on card for hanging)
---
Reference Number:-
Godden Number:-
Grant Catalogue Number:-
gt 360
not recorded
unknown
Words:

Woven on Silk:-
For when the one
Great Scorer
comes to write
against your name

He writes not that
you won or lost
but how you
PLAYED the Game.

Printed at bottom of card:-
WOVEN IN SILK BY W.H GRANT & Co. COVENTRY

Size:

Card-mount:

14.2cm deep by 9.5cm wide

silk:
6.6cm high by 5.1cm wide

Comments:

by Geoffrey Godden:
Godden does not record this title as a picture; only as an Alderman and Mrs Grant 1927 Christmas card.

Other comments:
As can be seen in the picture above, this silk is mounted in a thick card with a ribbon attached to the top, so the whole picture can be hung on the wall.

---
---