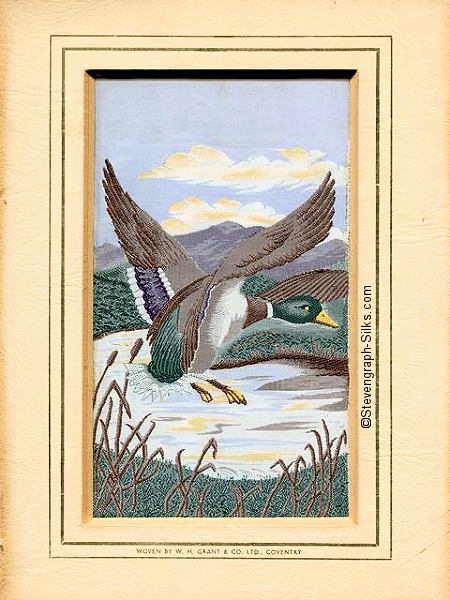 ---
1959 Calendar
(no title - Alighting Mallard Duck)
---
Reference Number:-
Godden Number:-
Grant Catalogue Number:-
gt 259
1060
unknown
Words:

Printed at bottom of card:-
WOVEN BY W.H. GRANT & CO. LTD. COVENTRY


Size:

Card-mount:

20.4cm deep by 15.5cm wide

silk:
14.6cm high by 8.5cm wide

Comments:

by Geoffrey Godden:
CALENDARS
Various woven calendars were made in different years - many mounted on postcards from the early 1900s onwards, others with Christmas or New Year greetings printed on the reverse side.

Several silks were incorporated in the covers or mounts of calendars (the calendar part being printed on paper in the normal manner) and these cannot be classed as woven calendars. Nevertheless, the finest post-war Grant silk pictures have been especially woven to enhance these standard calendars.

ALIGHTING MALLARD DUCK
A fine silk made as a calendar mount in 1959. Designed by T. D. Howes.

Other comments:
The reverse of this silk picture contains the 1959 calendar, together with details of the items manufactured by Grant.

Reverse of the Grant Alighting Mallard Duck calendar,

showing the 1959 calendar for the whole year.
---
---